Secure Your Documents
Add trusted digital signatures to your Microsoft Office and PDF documents
Comply with industry and local e-signature regulations
Replace wet ink signatures and increase document security
Sign multiple document types with one credential
Start Securing Your Documents
You need a Document Signing Certificate to digitally sign your documents. GlobalSign certificates can be issued to individuals or organizations and there are no limits on the number of signatures you can apply.
Please ensure to order your certificate from the Region where the company in the certificate is based, and with the correct currency. If your certificate request upon ordering does not match these criteria, your order may risk being delayed, and/or not being processed.
Select Region
Document Signing Certificates
Trusted timestamping included
Sign unlimited number of documents
Sign with individual or organization identity
Certificate stored on FIPS compliant hardware token
Signatures are automatically trusted by Adobe, Microsoft, BlueBeam, and more
Why Should You Digitally Sign Your Documents?
Digital signatures are a type of electronic signature based on cryptographic technology. This underlying cryptography makes them the most secure form of electronic signatures and compliant with national and industry-specific e-signature requirements.
Prove that it is really you who signed the document

Your third party verified identity is used to apply the signature and this information is embedded directly in the document, assuring document recipients that the signature is legitimate.

Create a tamper-evident seal on your document and protect your content

When someone opens a digitally signed document, its contents are automatically compared to when the signature was applied. Even the smallest change will cause this check to fail and an error message will be shown to warn the reader.

Automatically include a trusted timestamp to show when exactly the document was signed

All digital signatures applied with a GlobalSign certificate automatically include a RFC 3161 compliant timestamp to support non-repudation, time-sensitive transactions, audit trails, and certain e-signature regulations.
Digitally Sign Across Multiple Platforms with One Certificate
Why Choose GlobalSign for Document Signing?
Public Trust
As a member of Adobe's Approve Trust List (AATL) and Microsoft Root Trust List, GlobalSign certificates are automatically trusted in leading document software.
Long Term Validity
GlobalSign digital signatures are long term validity enabled, meaning the signatures do not expire when the certificate expires.
Trusted Timestamping Included
GlobalSign document signing certificates include trusted timestamping for no additional fee. This supports non-repudiation and is a requirement for some regulations.
Digital Signature Provider for 10+ Years
GlobalSign was one of only 4 providers in Adobe's Certified Document Services (CDS) program, which debuted in 2005. Since then, we have helped thousands of individuals and companies adopt digital signatures.
Simplified Product Offering
Pricing is not based on the number of signatures - you can sign an unlimited number of documents. Also, individual, organization- or department-level identity certificates are the same price.
FIPS Compliant Hardware Token Included
GlobalSign document signing certificates are stored on an included Gemalto Safenet USB token. This supports two factor authentication and is a requirement for some regulations.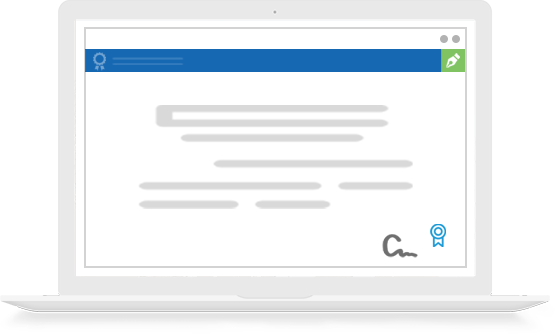 Need multiple Document Signing Certificates?
Use our certificate management platform to make your life much easier and save money compared to purchasing separate certificates. Centralizing all certificates simplifies lifecycle management, helps avoid unexpected expirations, and makes it easy to set budgets.
Learn More
What customers are saying
Outstanding service
My interaction for about a week with GlobalSign has been very pleasant. Response of your executives was quick and positive and delivery of service was outstanding. Thanks for your support.
Michael Trotta Rocks
I'm pretty sure Michael Trotta is plugged directly into your service, via some cybernetic contraption that you have yet to patent. I really sppreciate his candor, and the speed of his responses!
Easy to Understand
The process and instructions have been made easier to understand with the step-wise instructions and FAQs, especially those, like me, without access to an IT department.